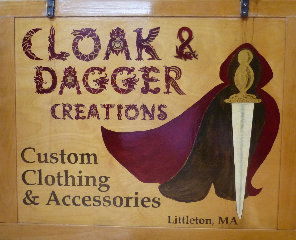 More than 20 years ago, I started making cloaks because I wanted to provide a way for people to keep warm at outdoor events. Many of those original cloaks are still in use today. With our cloaks, clients connected to history with a style that could also take them into the future.  They represent the idea that Great Style is Timeless.  Clothes don't need to be disposable - they can be made to last.
At Cloak & Dagger, we make clothing, not just costume.  Our custom clothing can be aimed at
everyday wear
special occasions like weddings
medieval or colonial re-enactment,
renaissance faires, stage performances, and live role playing.
Most of the clothes you see in movies and on book covers are fantasy based. "Fantasy" clothing can combine styles from several historical periods or have modern elements. and offers more choice in fabrics and design.
Our historic clothing is thoroughly researched and can be used for SCA as well as medieval or colonial recreation, weddings, theatre, and performance.
Please remember -- everything is handmade and that takes time, so some items are not immediately available for delivery. However we always keep some items on hand so be sure to browse our product pages. Check out our photo gallery for pictures of custom items we've made in the past.
The contents of this site show examples of our work and provide a general sense of our prices. This is by no means everything we are capable of doing, and the pages show only a small sample of the kinds of clothing we can create. Our custom services have become complex enough that a printed brochure can't keep up with styles, accessories, and prices. This web-site is currently the most accurate presentation of our available services and merchandise.
Got an idea? Good! Contact us! Reach us by:
Phone - 1-978-486-4414 (between 9:30 am and 5 pm, or 8:30 to 10 pm US Eastern Standard Time)
Email - [email protected]
US Mail - Cloak & Dagger Creations, 61 Gilson Rd, Littleton MA, 01460